Akira Karasuma
Vital statistics

Romaji Name

Karasuma Akira

Kanji Name

烏間明

Gender

Male

Date of Birth

September 10, 2079
(VIRGO ♍)

Height

5'8" (178cm)

Weight

150 lbs (68kg)

Blood Type

AB
Status

Affiliation

House of Representatives - Eugenics Party

Status

Occupation

Youth Bureau Director
House of Representatives Environment Dept Chairperson
Diet Member

Relatives

Yoshisada Karasuma (grandfather)
First appearance

Manga Debut

Chapter 1 (Crime and Punishment)

Anime Debut

Sinners of the System Case.1 - Crime and Punishment
Voices

Japanese

Keiichi Nakagawa

English

undetermined

Akira Karasuma is a Diet member of the House of Representatives in the Eugenics Party and a central figure in the creation of the Special Ward Sanctuary belonging to the Ministry of Economy, Trade and Industry's Environment Bureau.


Appearance
Karasuma is a male of average height and build in his 30's. He has dark-irised eyes snd short black hair swept to the left. He is typically seen in a dark blue suit, white dress shirt and red tie.


Personality
He is described as a young and talented politician. He is aware of illegal crimes committed at Sanctuary, but chooses to cover it up for the greater good of society.


Personal Background
In February 2117, he arranges for the murder of Ataru Takeda when he discovers that Takeda has discovered the corruption within Sanctuary.
Early Life
Residence
Current address: Tokyo, Meguro Ward, South Yutenji Street, G-15-30
Emergency Contact Information
Kanagawa Prefecture, Yokosuka City, 8th Block 4-9-S
Yoshisada Karasuma (relation: grandfather)
Education
March 2095 - Graduates from Kanagawa Prefectural's Yokosuka Middle School, General Studies Course.
April 2095 - Enrolls at Tokyo Metropolitan High School, Faculty of Urban Environment, Urban Environment Course.
March 2099 - Graduates from Tokyo Metropolitan High School, Faculty of Urban Environment, Urban Environment Course.
Work History
April 2099 - Employed by the East Japan Power Company. Assigned to the Tokyo New Minato Ward's Methane Hydrate Technology Sales Department.
June 2103 - Resigns from East Japan Power Company due to running for election.
Licenses/Qualifications
none


Relationships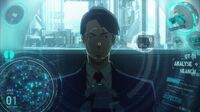 The Sibyl System occasionally inhabits Akira Karasuma's android body in order to operate in real-time under the guise of a fully functioning human being.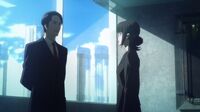 Shimotsuki is the only person in the Public Safety Bureau who is aware of Karasuma's true identity, as well as the extraction of high-level radioactive waste being the source of crime committed at Sanctuary. Though conflicted about her blind faith in the system after this revelation, Shimotsuki agrees to keep the truth secret in exchange for Izumi Yasaka and Takeya Kukuri's safety.


Trivia
His ID is 13233-RRPS-17821-3.


Gallery
References
x