This is the personnel of the Ministry of Welfare Public Safety Bureau's Criminal Investigation Department, Division 03.
The Inspectors of Division 03
The Enforcers of Division 03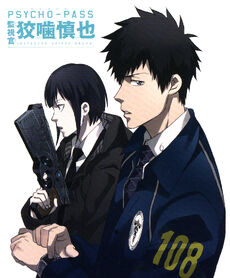 The Inspector Shinya Kogami Arc
The Season 1 Arc
The Season 2 Arc
The Analysts of Division 03
Trivia
The tactical number of this division is 108. It is written on the left shoulder of the Inspectors' blue jackets.[1] Division 03's paddy wagon also bears this number on its roof, at the stern of each side and on its back.[1][2][3]
Division 03 Inspectors' vehicles display the tactical number 309 (on their rooofs, back wings and at the rear of their trunks) when they are in intervention mode.[1]
References