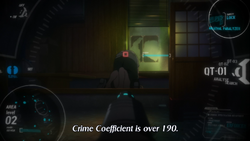 A person's Crime Coefficient (Japanese 犯罪係数 Romaji: Hanzai Keisū) is a numerical measure of said person's probability/propensity to commit a crime. It is one part of a person's overall Psycho-Pass. The Public Safety Bureau uses this measurement to determine if a target is a latent criminal or otherwise. It is calculated and determined by the target's stress level (Hue) and other biological readings via cymatic scan by the Sibyl System.
Levels of Crime Coefficient
Under 100 ‒ Suspect is not a target for enforcement action. The trigger of the Dominator will be locked.

100 to 299 ‒ Suspect is classified as a latent criminal and is a target for enforcement action. The Dominator is set to Non-Lethal Paralyzer mode. Suspect under fire will be stunned into a stunned state of immobility and, oftentimes, a lack of consciousness.
Crime Coefficient Records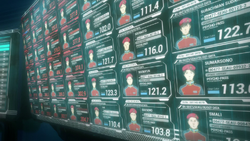 References