This is the personnel of the MWPSB's Division 3.
The Inspectors of Division 3
Unnamed male Inspector (former)
The Enforcers of Division 3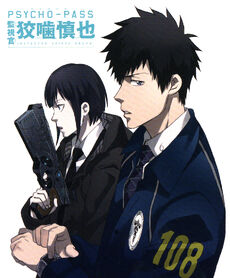 The Inspector Shinya Kogami Arc
The Season 1 Arc
Takayuki Haga
Mai Momota (former)
Ayaka Takami (former)
Unnamed male Enforcer (former)
The Season 2 Arc
The Analysts of Division 3
Trivia
The tactical number of this division is 108. It is written on the left shoulder of the Inspectors' blue jackets.[1] Division 3's paddy wagon also bears this number on its roof, at the stern of each side and on its back.[1][2][3]
Division 3 Inspectors' vehicles display the tactical number 309 (on its roof, its back wings and at the rear of its boot) when they are in intervention mode.[1]
References