PSYCHO-PASS The Stage Chapter1-Crime Coefficent-
Information
Kanji
舞台版『PSYCHO-PASS サイコパス Chapter1-犯罪係数-』
Rōmaji
Butai-ban『PSYCHO-PASS Saiko Pasu Chapter1-Hanzai Keisū-』
Air date
October 25, 2019 -


November 11, 2019

Navigation
Prequel
← None
Sequel
TBD →
PSYCHO-PASS The Stage Chapter1-Crime Coefficent- is a stage play based on the anime series. It ran from October 25, 2019, until November 11, 2019, at the Shinagawa Prince Hotel's Stellar Ball venue. The play was later released on DVD and Blu-ray on March 18, 2020.
Synopsis
The play is a condensed adaptation of Anime Season 1 wherein Akane Tsunemori joins Division 01 of the Public Safety Bureau as an Inspector in 2112. Working alongside fellow Inspector, Nobuchika Ginoza, and their group of Enforcers -- Shinya Kogami, Tomomi Masaoka, Shusei Kagari, and Yayoi Kunizuka -- Tsunemori must track and apprehend people judged by the Sibyl System to be latent criminals. However, the team is troubled by the work of the criminal mastermind, Shogo Makishima, a criminally asymptomatic individual who has a fondness for drawing out the inner potential of fellow criminals.


Trivia
The play runs for approximately 2 and a half hours, broken up by a 15 minute intermission.
The play had an alternating schedule for performances; only one performance on weekdays (evening), but two performances on Saturdays and Sundays (midday and evening). There was also a designated rest day for each week, Monday for the first full week and Tuesday for the final week.
Tickets cost ¥8,800. Most were assigned by a random lottery system before the remainder went on general sale on September 21, 2019.


Behind the Scenes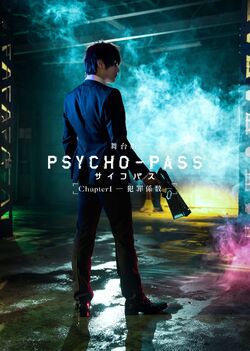 Screenplay writer: Shinjirou Kameda
Producer: Kaori Miura
Supervisor: Gen Urobuchi (Nitroplus)
Sponsor: Butai-ban PSYCHO-PASS Chapter1-Hanzai Keisū-Production Committee

Main Stage Cast:
Ensemble Cast:
Ryo Imai
Mari Kubota
J.U.N.
Kyuto Takemura
Ayano Nagasawa
Yuichiro Hashimoto
Haruka Higuchi
Ryoko Mayahara
Mayumi Miyasaka
Arisa Morishita
Eri Yanagida
Keishi Yamamoto
Actors
Trailer
Links