PSYCHO-PASS The Stage
Virtue and Vice
Episode Information
Kanji
「舞台PSYCHO-PASS サイコパス Virtue and Vice」
Rōmaji
「Butai PSYCHO-PASS Saiko Pasu Virtue and Vice」
Air date
April 18–30, 2019 (Tokyo)
May 4–6, 2019 (Osaka)
Episode Guide
Previous
← N/A
Next
PSYCHO-PASS Virtue and Vice 2 →
PSYCHO-PASS The Stage Virtue and Vice is a spin-off stage play adaptation based on the Psycho-Pass series. It ran in Tokyo at Nippon Seinenkan Hall between April 18-30, 2019 and in Osaka at Morinomiya Piloti Hall between May 4-6 of the same year. It was released on Blu-ray and DVD on October 16, 2019.[1]
The stage play introduces new characters from Division 03 of the Criminal Investigation Department of the Public Safety Bureau. Psycho-Pass anime writer Makoto Fukami wrote the script for the play and Katsuyuki Motohiro, the anime's chief director, directed.[2]
Synopsis
Haruto Kusen, an Inspector from Division 03, is ordered by Public Safety Bureau Chief Joshu Kasei to investigate a serial murder case. The victim's body is finely cut into 18 parts, each of which is numbered. Having the same pattern of killing, there are four crime scenes, all of which are back alleys of the downtown area.
"Why was the body cut into pieces? Why was it disseminated in four locations? Why was each part numbered?" With these questions in mind, Kusen conducts the investigation along with Inspector Hiro Kano and Division 03 Enforcers.
While identifying the victim, an apparatus known as the "Chinese room" is found to be involved in the incident. At that moment, a psycho-hazard is raised due to the deterioration of the citizens' hues after dismembered corpses are found scattered throughout the city. "Humanist," an armed struggle organization, issues a statement of terrorism and criticizes the Sibyl System for its serious flaws. The organization also announces a warning about larger incidents. As the investigation continues, the existence of a traitor surfaces in the Public Safety Bureau.
What is the "Chinese room" that holds the key to the case, what is Humanist's aim, and who is the "traitor"?[1]
Trivia
Tickets cost ¥8,800.
A lottery sale was held for every performance run for those who gathered one hour and 15 minutes before the play to 15 minutes before the play.
Behind the Scenes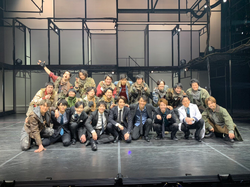 Original: Psycho-Pass Production Committee
Director: Katsuyuki Motohiro
Screenplay: Makoto Fukami
Music: Yugo Kanno
Story supervisor: Production I.G
Assistant director: Nozomi Matsumori
Sword/Action director: Hideaki Okuzumi (T.P.O.office)
Art: K. Ishihara (BLANk R&D)
Lighting: Hiroko Yoshikawa (CAT)
Sound: Taishi Imamura (sound craft LIVE DESIGN)
Dominator SE: Yasumasa Koyama
Video: Tsubasa Yokoyama and Yasuhiro Omi (O-beron)
Costume: Chiharu Oikawa (Towazukuri)
Hair and makeup: Yoko Kawamura
Staging: MAMORU
Second director: Ryo Okubo
Stage director: Junpei Komitsu (Roots)
Advertising art: Takehito Ishizuka (Rotterdam's doing)
Advertising photo: Daisuke Honda (A.K.A.)
Advertising costume: JOE (JOE TOKYO)
Advertising hair and makeup: UG Nishimura (earch)
Music:
Theme song: Laser Beamer by Ling tosite Sigure
Producers: Sony Music Entertainment and Polygon Magic
Sponsor: Psycho-Pass The Stage Production Committee
Main Stage Cast:
Voice Cast:
Ensemble Cast:
Yuusaku Matsui
Sho Haruyama

Kei Tanaka
Naoki Machida
Seidai Ojiri
Ryo Tanaka
Gallery
Videos
External Links
References