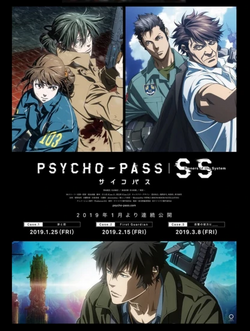 Psycho-Pass: Sinners of the System is a trilogy of anime films for the Psycho-Pass series. The project began airing in January 2019 and consists of three eiga, or movies. Each one focuses on a different case about different "sinners of the system." The footage will be animated in Production IG Studio, the same studio as that of Season One of Psycho-Pass[1]. Yugo Kanno will again compose the soundtracks.
Note: Eiga are listed in infobox Navigation according to premiere dates, not chronological order.
Eiga
Crime and Punishment — focuses on Nobuchika Ginoza and Mika Shimotsuki
First Guardian — focuses on Teppei Sugo and Tomomi Masaoka
In the Realm Beyond — focuses on Shinya Kogami


Trivia
Each story deals with the theme of crime under differing circumstances, revenge taken (or not taken) by significant characters and their subsequent redemption (or lack thereof).
This theme is seen in the character of Rodion Matsuki, from Case.1 - Crime and Punishment, who commits heinous acts then, unable to live with the guilt, commits suicide. In that story, Ginoza forgives himself for becoming a latent criminal and moves forward in his role as Enforcer with peace of mind.
In Case.2 - First Guardian, Teppei Sugo comes to terms with the guilt he feels over the inadvertent murder of Itsuki Otomo and the revenge taken by Otomo's wife, Rin. Sugo finds redemption by becoming an Enforcer; Rin, on the other hand, is killed during her vengeful rampage.
Tenzing Wangchuck reads the short story, In the Realm Beyond Love and Hate, in Case.3 In the Realm Beyond. In the eiga, she seeks revenge for her murdered family, then gives up the desire, thus redeeming herself from a future filled with guilt. In helping Wangchuck, Kogami also finds redemption and decides to return to Japan with Frederica Hanashiro in order to save people in a different capacity than before.


Previews
References
x