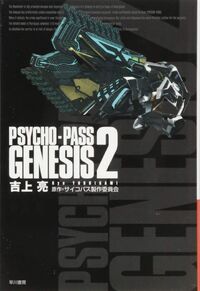 Psycho-Pass Genesis 2 is an official novel and continuation of Psycho-Pass Genesis 1.
Synopsis
In this installment, we follow the investigation of Tomomi Masaoka and Waji Yahiro from the Special Investigation and Prevention Office of the Metropolitan Police Department as they attempt to catch the mastermind behind the "Attack at the NONA Tower Opening Ceremony." The novel also describes the dismantling of the Japanese Police force and the foundation of the Criminal Investigation Department of the Public Safety Bureau.
Community content is available under
CC-BY-SA
unless otherwise noted.