Welcome to The Psycho-Pass Wiki
This Wikia was founded on August 28, 2012 and so far has 459 pages and 5,571 images.
This Wikia contains spoilers for the franchise, so proceed with caution. Psycho-Pass contains graphic content inappropriate for viewers under 13 years of age. EDITORS: Please read this site's rules before editing.
Introduction
A world where a human's state of mind and the criminal potential of their personality can be quantified. While all sorts of inclinations are recorded and policed, these measured numbers used to judge people's souls are commonly called one's... PSYCHO-PASS.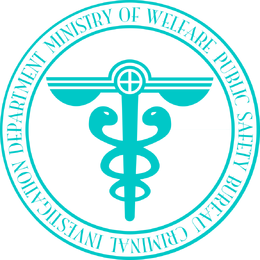 The series takes place in a dystopian 22nd-century Japan where it is possible to instantaneously measure and quantify a person's propensity towards criminality using a cymatic scanner. The information is recorded and analyzed by the Sibyl System, a hive-mind that controls law enforcement in Japan. Sibyl's oracular judgment determines - via various methods - one's numerical crime coefficient, one's color-coded hue over time and one's societal profile that results in an indexed Psycho-Pass. This number determines your value in society, as well as your right to live in freedom, under observation, in custody or... not live at all.
Season 1 tells the story of Shinya Kogami, a former Inspector-turned-Enforcer and the hunt for his nemesis, Shogo Makishima. It is told from the point of view of newly-minted Inspector, Akane Tsunemori, who is assigned as his superior in Criminal Investigation Department's Division 01 within the the Ministry of Welfare Public Safety Bureau. The Extended Edition abridges the S1 anime while adding new footage that alludes to events in the official novel.
Season 2 marks the disappearance of Kogami and the continued development of Tsunemori as a law enforcement officer and her growing influence on those around her: colleagues, criminals, citizens and the Sibyl System itself. The theater-based movie follows Tsunemori and her team to the island of Shambala Float where they locate Kogami, who is acting in a manner that is both reminiscent of his former self, yet vastly different.
The gekijouban, Psycho-Pass: The Movie, shows Tsunemori pursuing crime with her team in Shambala Float, a nation in Southeast Asia created for the purpose of initiating the Sibyl System. There, she locates Kogami, who is now assisting rebel guerilla forces as they attempt to overthrow a corrupt government bent on using the Sibyl System to unduly control the population.
The Sinners of the System film trilogy showcases stories about several characters previously introduced as they precede or follow the events of Season 1 and Season 2. Included in the trilogy are: Crime and Punishment, a story set several months after the gekijouban that involves Nobuchika Ginoza and Mika Shimotsuki; First Guardian, a story about Tomomi Masaoka and Teppei Sugo just before Sugo joins the Public Safety Bureau's Criminal Investigation Department; and In the Realm Beyond, a story that follows up with Kogami after he flees Japan.
Season 3 debuted between October and December 2019, concluding with a sequel eiga titled, Psycho-Pass 3: First Inspector, which premiered in March, 2020. Season 3 features rookie Public Safety Bureau Inspectors Arata Shindo and Kei Mikhail Ignatov, childhood friends who now work together. Vintage characters from S1 and S2 make appearances in both the season and the follow up eiga. Naoyoshi Shiotani directs for Production I.G. and Akira Amano are again responsible for character design.
Leading Characters in Season 3
Featured Character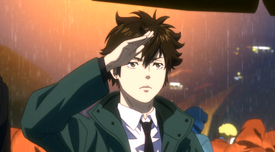 Arata Shindo is a rookie Inspector with the Public Safety Bureau and Class-A profiler with special abilities. His mentalist abilities allow him to cross mental boundaries that allow him to experience the actions (past or present) of any human subject through advanced empathy training. However, when using this ability, he is vulnerable to physical attack. His partner, Kei Mikhail Ignatov, is responsible for protecting both his mental well-being and his physical safety.
Featured Content
Political Strife in the Colosseum is the fourth episode of Psycho-Pass 3.

Freelance journalist Yayoi Kunizuka joins CID Division 01 as an investigation consultant to fill the gap left by Ignatov's suspension. As the investigation progresses, the team uncovers Karina Komiya's greatest secret. Guessing that Komiya will be the next to be attacked, they rush to her gubernatorial debate at the Giga Arena.
Psycho Pass: First Inspector