Ryogo Kozuki
Vital statistics

Romaji Name

Kozuki Ryogo

Kanji Name

神月 凌吾

Gender

Male

Date of Birth

Unknown

Height

Unknown

Weight

Unknown

Blood Type

Unknown
Status

Affiliation

Public Safety Bureau (former)

Status

Occupation

Enforcer (former)

Relatives

Unknown
First appearance

Manga Debut

Chapter 15

Anime Debut

0115 The Town Where Sulfur Falls
Voices

Japanese

Ryohei Kimura

English

None
Ryogo Kozuki is an Enforcer in Division 2 of the Public Safety Bureau who is later killed by Inspector Risa Aoyanagi when he attempts to flee during the aftermath of the Helmet Riots.
Appearance
He has dark blue hair and eyes, and a child-like face.
History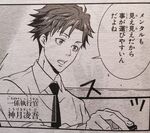 Around 2102, Kozuki begins to work as an Enforcer.
Before his transfer to Division 2, Kozuki is an Enforcer of Division 1 under Nobuchika Ginoza.
Relationships
He shares a close relationship with Aoyanagi, and it was hinted that he "effortlessly and painfully date with the Inspector."[1] However, Kozuki still tries to flee and is killed by her under the direct orders of the Sibyl System.
Kozuki and Sasayama often play cards together and seem to be friends.[2]
Trivia
He is younger than Aoyanagi, but has been working alongside her for many years.
His seiyuu also voices Kirito Kamui.
Gallery
References
Community content is available under
CC-BY-SA
unless otherwise noted.